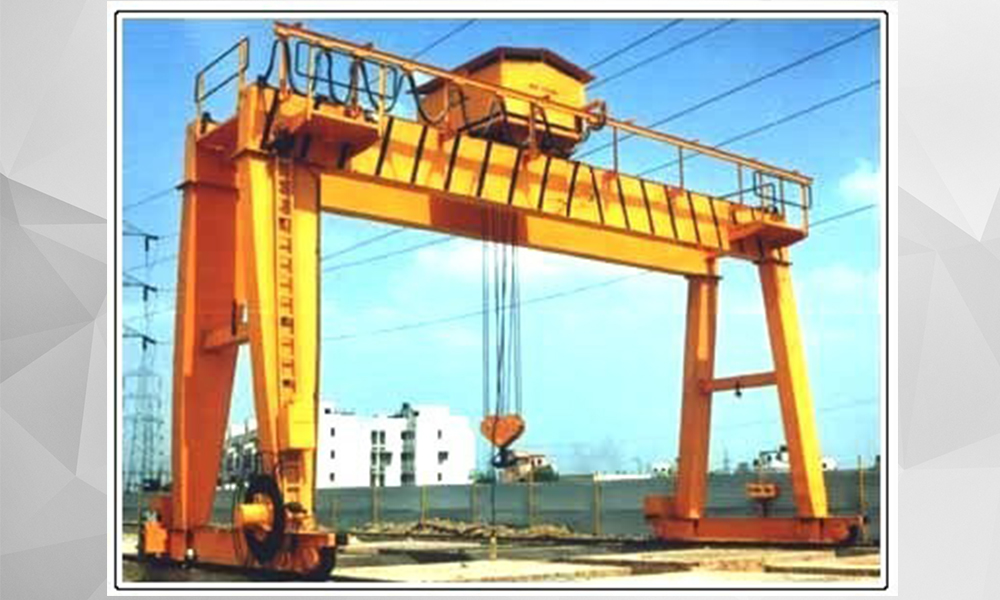 Hoist Motions :
This comprises of a motor of sufficient power a totally enclosed helical gear box, a rope drum coupled to the gear box by a specially designed flexible geared coupling.
The motor is coupled through flexible geared coupling to the gear box and on the other end an electro- magnetic/electro hydraulic thruster brake is provided which comes into operation as soon as the power is switched off (i.e. fail to safe type operation).
The gear box is having casting body incorporating all machine/hob cut helical gear trains and is splash lubricated. The use of totally enclosed helical gear boxes though rather expensive more than justifies the extra price in view of the advantages of high transmission efficiency, less meshing noise and longer life.
The gear box is coupled to an M.S.fabricated/seamless pipe rope drum. The rope drum is finally machined to have right and left hand spiral grooves to take the hoisting rope. It is of such a size that there will not be more than one layer of rope on the drum when the rope is fully wound. Also the length of the drum will be such that each lead of rope will have minimum two turns on the drum when the hook is at the lowest position and one spare groove for each rope lead when the hook is at the highest position.
A steel snatch block, complete with forged steel hook carried on bell thrust bearing is provided. It is provided with cast iron or fabricated M.S. pulleys and is fitted with guards to prevent the rope from leaving the pulleys. Lifting Hook is tested as per IS 3815 and IDLR test certificate is issued for each hook.
The hoisting wire rope provided is of 6 x 36 construction of best plough steel having a breaking strength of 160/175 kg/mm2 The wire rope has factor of safety as stipulated in IS 3177-1977. A Spindle limit switch driven by hoisting drum shaft is provided to give protection against the extreme positions of hook travel.