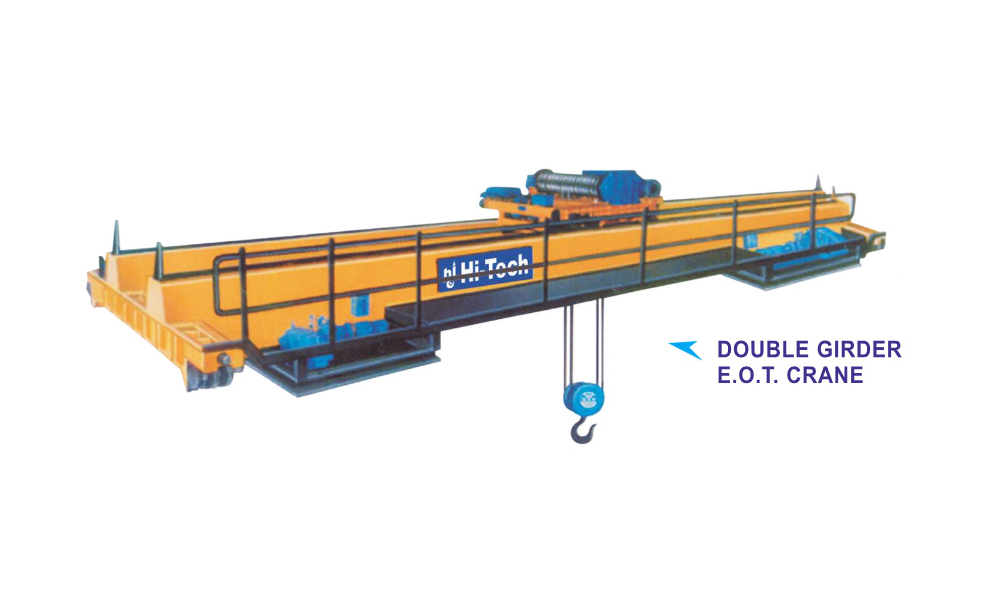 Traverse Motion :
The traverse motion involves power transmission from the motor to the trolley wheels through enclosed vertically mounted spur/helical gear box having an output shaft extending on both side the trolley wheels through semi-geared couplings on the principle of floating shaft. The motor coupled to the gear box and on the electromagnetic/electro hydraulic thruster provided. The brake applies automatically when the current supply is switched off.
Travel Motion :
Two independent driving units are provided at the end of bridge girder. Each unit comprised of a motor driving, the bridge wheel through a totally helical gear box. The motor is coupled to the gear box and on the coupling an electromagnetic/hydraulic thruster brake is provided which applies automatically when the power is switched off.
Gear box shaft extends on one side and drives wheel on the principle of the floating shaft semi-geared couplings. This system of providing a semi-geared and semi-rigid coupling in the traverse and transmission shafting is known as the floating system. The entire transmission system on the output shafts of traverse and travels motions is assembling with the use of geared coupling.
Motors :
All motors will be totally enclosed 40% CDF high torque crane duty squirrel cage / slipring type preferably in TEFC frame size. Motors will have generally Class F insulation suitable for tropical climate & high humidity. All motors will conform to IS:325. The motors will conform to details as given in quotations.
Controlling Equipment :
The floor controlled crane will be controlled by means of pendant push button controller operated from floor. The Cabin controlled crane will be controlled by means of master controllers or Drum/Cam type controller.
Resistors :
In case of slipring motors, resistors shall be provided are designed as per BSS-587-1957 and are made of unbreakable grids formed from stainless steel or a similar alloy housed in a ventilated steel housing. These are suitable for intermittent duty having 5/10 minutes rating.
Control Panel :
An electrical protective panel of sheet metal is provided housing with Isolating Switch, overload relays for hoisting ,One contactor type circuit breaker, One set of fuses for each motor & One transformer for low voltage supply.
Wiring :
All wiring between individual motors, controllers, current collectors and resistance is with PVC flexible/un-armored cables. Control wiring is done with PVC flexible/un-armored cables having copper conductors.
Testing :
The cranes are fully assembles in our workshop before dispatch as per ISS-3177. The testing of hoisting and C.T. motion are carried out at our works at load conditions & overload as per IS:3177 prior to dispatch including the deflection test in presence of third party inspector with handing over of necessary certificates.